More Socionomological Scatology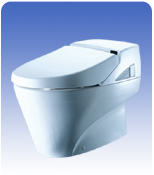 My friend, BenS, is remodeling a bathroom.
In the process
, he has (literally) looked into hundreds of different toilets.
For negative recommendations, he points to
this one
.
But for real class, he now suggests the
Toto Neorest
pictured here.
Even if you are not in the market, check out the features listed at that site.